Protean City Comics Issue #104 Meeting Over Tea
5 months ago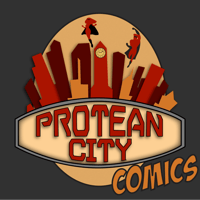 Episode Notes
On the cover Alina Mars, Patti Patchelo, and Elvis Elberfeld sit uncomfortably on an antique couch next to a frosted glass door with the name Coldsnap on it. Alina fidgets with her blazer while Patti glares at Elvis who wont stop tapping his foot. They wait with an important, but surprise meeting.
--
With the Appointed's plans accelerating only one person is in a prime position to know the answers to the questions everyone is asking. Except she hasn't spoken with most of her team in months. Can Sage reconnect with her best friend and find a way to stop Evan Lee?
---
Introduction voiced by Peter DeGiglio All music was composed by Jim Malloy Masks: A New Generation is a game by Brendan Conway and published by Magpie Games
This podcast is created thanks to the financial support of backers on Patreon Join us at in our Discord or follow us on twitter @ProteanCity Subscribe to Protean City Comics on iTunes or anywhere podcasts are found.
Join us next Wednesday to find out what thrilling adventures lie ahead!
Find out more at http://proteancity.com