Reformers Issue #11 Four Color Process
6 months ago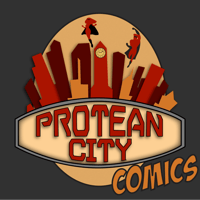 Episode Notes
On the cover, A giant exaggerated wind up toy version of the steam-bot lifts it's blocky metal foot to crush a Protean City high school. Much smaller action figures of our heroes cling to its arms and legs desperately trying to stop its robotic reign of terror.
An out of control Steam Bot is attacking a high school college fair! Can our haphazard group of kids pull itself into a team to protect everyone and stop this robot?
Check out Alice on the Unlabelled AP Podcast.
Scarlet Saber is played by Morgan Hill who can be found on twitter @magpie_mirror. You can find their games at nestedgames.itch.io
Flerb is played by Daniel Rodriguez who can be found on twitter @katsushiro and on the Fandible podcast network at Fandible.com
Introduction voiced by Peter DeGiglio All music was composed by Jim Malloy Masks: A New Generation is a game by Brendan Conway and published by Magpie Games
This podcast is created thanks to the financial support of backers on Patreon Join us at in our Discord or follow us on twitter @ProteanCity Subscribe to Protean City Comics on iTunes or anywhere podcasts are found.
Join us next Wednesday to find out what thrilling adventures lie ahead!
Find out more at http://proteancity.com