Appointed Issue #2
5 months ago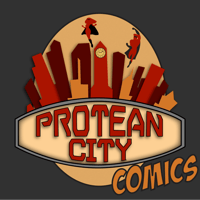 Episode Notes
On the cover, is a simple weathered bankers box it's tape up top flaps torn open. Inside we can see hundreds of small tapes each bearing a name and date. A small memory of a person from long ago. The box sits on a large table and at the corner of the cover we see the top corner of a map, a map labeled Appointed Compound 2004
Introduction voiced by Peter DeGiglio All music was composed by Jim Malloy Masks: A New Generation is a game by Brendan Conway and published by Magpie Games
Additional Music from the Youtube Studio.
This podcast is created thanks to the financial support of backers on Patreon Join us at in our Discord or follow us on twitter @ProteanCity Subscribe to Protean City Comics on iTunes or anywhere podcasts are found.
Join us next Wednesday to find out what thrilling adventures lie ahead!
Find out more at http://proteancity.com