Reformers Issue #12 Photo Copies
4 months ago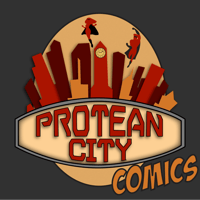 Episode Notes
On the cover, we see Jitterbug sitting on the edge of a rooftop. She's hunched over looking intently at something on her phone. The skyscraper across the street is towering in a very menacing way. Attached to the side of the building, and looming over the small looking Jitterbug are the decorative letters that name the building "The Paradiso."
---
When Jitterbug receives an ominous text from an anonymous number she can't help but look into it. Unfortunately she might not be fast enough to go it alone. Fortunately she's got fast friends.
---
Introduction voiced by Peter DeGiglio All music was composed by Jim Malloy Masks: A New Generation is a game by Brendan Conway and published by Magpie Games
This podcast is created thanks to the financial support of backers on Patreon Join us at in our Discord or follow us on twitter @ProteanCity Subscribe to Protean City Comics on iTunes or anywhere podcasts are found.
Join us next Wednesday to find out what thrilling adventures lie ahead!
Find out more at http://proteancity.com