House of Regulus Issue #12 Humanity is that Strange Condition
4 months ago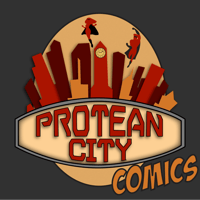 Episode Notes
On the cover, Virgo and Wex step out of The DUNK and look out over a field of racing ships. Even on single image on the cover the movement, the music, the energy of the scene can be felt. An array of all sorts of alien folks boast and dance and show off their rides. But underneath the joyous outerlayer, something more sinister lurks.
The top right cover is drawn to look like it has been folded back. A lion who looks suspiciously like Virgo is popping his head out and exclaiming "DUNK on Drugs!"
Introduction voiced by Peter DeGiglio All music was composed by Jim Malloy Masks: A New Generation is a game by Brendan Conway and published by Magpie Games
This podcast is created thanks to the financial support of backers on Patreon Join us at in our Discord or follow us on twitter @ProteanCity Subscribe to Protean City Comics on iTunes or anywhere podcasts are found.
Join us next Wednesday to find out what thrilling adventures lie ahead!
Find out more at http://proteancity.com