Protean City Comics Issue #101 Kill an Evil Wizard
7 months ago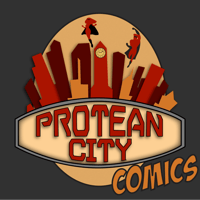 Episode Notes
Windshear continues his search to discover if he's really back in his own time or if this is another cruel trick. He's face to face with a man claiming to be the father of his young friend but something seems off.
---
On the cover, Windshear and Two Step stand on a vast oil slick. The dark rippling rainbows in its slick surface are all that separate it from the sparcely star dotted sky. Holding one of each of their hands is the boy Jake. Facing off agianst them on the other side of the cover is a tall man with a familiar smile.
---
Introduction voiced by Peter DeGiglio All music was composed by Jim Malloy Masks: A New Generation is a game by Brendan Conway and published by Magpie Games
This podcast is created thanks to the financial support of backers on Patreon Join us at in our Discord or follow us on twitter @ProteanCity Subscribe to Protean City Comics on iTunes or anywhere podcasts are found.
Join us next Wednesday to find out what thrilling adventures lie ahead!
Find out more at http://proteancity.com