Protean City Comics Issue #105 Heart of the Tempest
5 months ago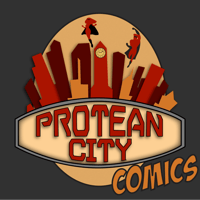 Episode Notes
On the cover Alina, Sage, and their Appointed friends are squeezed into a cafeteria booth. They all look tired and most of their uniforms or clothes are torn from the fight. A whispered conversation has just ended and they now each point an accusatory chicken finger at someone else at the table.
--
With some of their Appointed companions at least cautiously on their side, Sage and Alina seek act on some of Alina's hard earned intel. But will they find more than they bargained for?
---
Introduction voiced by Peter DeGiglio All music was composed by Jim Malloy Masks: A New Generation is a game by Brendan Conway and published by Magpie Games
This podcast is created thanks to the financial support of backers on Patreon Join us at in our Discord or follow us on twitter @ProteanCity Subscribe to Protean City Comics on iTunes or anywhere podcasts are found.
Join us next Wednesday to find out what thrilling adventures lie ahead!
Find out more at http://proteancity.com