Protean City Comics Issue #111 Welcome to the Hunt
2 months ago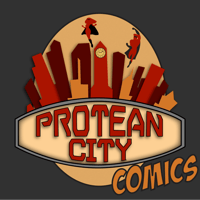 Episode Notes
On the Cover, Alina's face tilted 90 degrees as though she were laying on the ground. In the foreground, a metalic liquid drips into a puddle forming on the ground in front of her. In the reflections in her pupil we see the reflection of an enormous form rising over a dark forest.
A huge thanks to our friends at Otherwhere who recorded with us at the last minute.
Juni 'Mystic' Harraway is played by Siobhan who can be found on Twitter @spellboundmage Quint is played by Erik. He can be found on twitter @PrimefactorX01, as as a silky smooth Fae on the Shadows of St. Fleur Podcast. Katherine 'Kat' Slane II is played by Allison Katherine who can be found on the Otherwhere and Saint Fleur discords. She also voices Jeremiah Crawford on Shadows of Saint Fleur.
Check out Otherwhere at otherwhere.lawofnames.com and where ever podcasts are distributed. Follow the podcast on twitter @OtherwherePod. If you enjoy their podcast, support them on patreon.com/otherwhere
Introduction voiced by Peter DeGiglio All music was composed by Jim Malloy Masks: A New Generation is a game by Brendan Conway and published by Magpie Games
This podcast is created thanks to the financial support of backers on Patreon Join us at in our Discord or follow us on twitter @ProteanCity Subscribe to Protean City Comics on iTunes or anywhere podcasts are found.
Join us next Wednesday to find out what thrilling adventures lie ahead!
Find out more at http://proteancity.com